Join the Sudan Sunrise movement and get involved! 
Shop to make a difference!
Support us when you shop at Amazon!
Go to smile.amazon.com/ch/20-4239298 and Amazon donates to Sudan Sunrise.

Start your own project:
Student groups and clubs are welcome to support our mission. Email [email protected] to get started.
Support a school
Support a school in South Sudan. A school lunch can be provided for only 8 cents and a teacher salary for one month costs $70. Get involved here.
Host a fundraising event
Email us at [email protected] for more information.
Volunteer with us!
Donate your time and expertise to assist Sudan Sunrise in bringing educational opportunities to South Sudan. Volunteer opportunities are available at the Sudan Sunrise office in Fairfax, VA, or alternatively administer a volunteer project from your specific location.
School Chapters
Motivate your school to get involved in building schools in South Sudan by holding a fundraiser or event to raise funds to give the gift of education to children in South Sudan.
Pray
Sudan Sunrise considers prayer vital to fulfilling our vision. Please join us in praying for peace in Sudan and South Sudan.
Thank You to Those Getting Involved!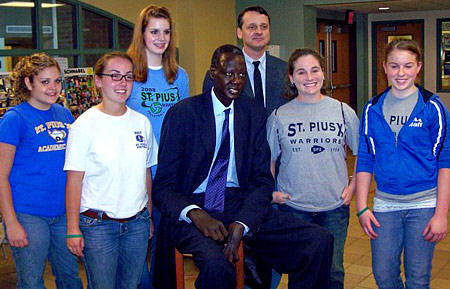 St. Pius X High School in Kansas City, MO got involved in helping to build the Manute Bol Turalei Primary School by raising $13,000. The "Letters of Compassion" student group, who works to spread awareness regarding social injustice, held numerous fundraisers, including a Spring Bazaar and Craft Sale, among other events.
"Because we believe that education is the key to a prosperous and peaceful future, this is the most meaningful gift that we can possibly help give to the children in the village of Turalei," stated Meredith O'Malley, Co-President.
High School and University Chapters:
The Manute Bol School Project and St. Pius X High School

Nancy Williams Eugene, OR Nancy organized a group of children to combine their beach clean-up efforts with raising funds for the Francis Bok Gor Ayen School. Nancy requested that friends and family sponsor their group to clean the beach, which raised over $200 for the school.

Joe Dicostanzo Turalei, South Sudan Joe traveled to Turalei with a teaching team to help instruct teachers on teaching English  as a second language and other basic skills, including math. The team also delivered maps and supplies to the teachers.
Volunteer with us: