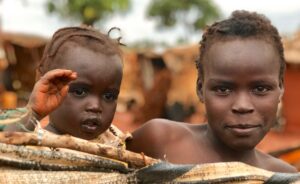 Kush State University Using Modern Day Manna from Heaven to End Malnutrition! 
The Christians and Muslims, men and women of Kush State University have begun an effort to end malnutrition in Sudan's Nuba Mountains and beyond.   "If we don't act quickly, we will face an even more serious food shortage," said KSU President, Khalid Abass.  "If you saw the malnourished children being treated at the hospital, you would cry," Khalid commented.  NGO's have announced that relief shipments to the Nuba Mountains will be greatly reduced this year.  In addition, Nuba farmers who have fled to South Sudan have been informed that they must relinquish half of their harvest.  (The photo above shows the bleached hair of a protein deficiency in children living in the Nuba Mountains 7/19.) 
The amazing Moringa tree was planted ten years ago in the Nuba Mountains on a small scale, but it was enough to show it thrives in the Nuba climate.  Even the people who have Moringa trees are unaware the that solution to malnutrition is right at their fingertips!  The leaves of the Moringa tree are packed with protein, vitamins, and minerals, and can easily be added to the normal diet of the people of the Nuba Mountains.  
Enter in the 196 women and men of KSU's nursing program.  They are in a unique position as trusted insiders to teach the people how to plant the Moringa and add the leaves to their diet.  
August 4, 2019,  KSU hosted a community meeting to plant some Moringa seedlings and to begin to educate the people on the benefit of adding Moringa to their diet.  As the Governor of the Nuba Mountains helped the students and professor Ismael Dabura plant Moringa seedlings, he declared "I want every family in the Nuba Mountains to have a Moringa tree.  Together we can end malnutrition."
The pilot program is officially launched, and in addition to planting all available seeds, the students will begin a community health study.  They will gather statistics on intakes at the two hospitals and will begin to measure the benefit to malnourished children.  
 We are also exploring ways to vastly expand the reach of the Moringa project by making seeds and knowledge available throughout the region.   To do so we need your help!  Click here to donate today and help bring an end to malnutrition in the Nuba Mountains!  If your donation is for the support of the Moringa Project by Darfur Interfaith Network please choose DIN Moringa Project from the drop-down menu on our donation page.