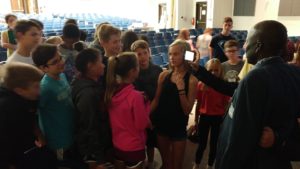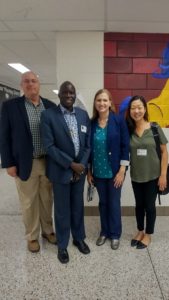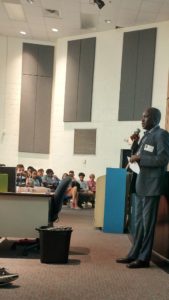 Tuesday, October 10, 2017- Bishop Abraham Nhial Visits Simpson Middle School in Loudoun County, VA
Seventh graders cheered as they heard Bishop Abraham Nhial encourage them in their education and in living out their lives of freedom and peace in the US.
After sharing the harrowing account of growing up as a lost boy as well as the harsh, war-torn condition of his country still, Bishop Nhial reminds us that we have much to be thankful for.
He said, "You are blessed to be born in America and go to school in America.  America is the land of opportunity and freedom, what a blessing!  But you don't see the blessing, you complain too much, you are confused! Go home tonight and apologize to your parents and teachers.  Tell them you have nothing to complain about."
He continued to share how the average student walks one hour one way to get to school everyday, and yet they do it joyfully because they love the opportunity to learn.  He also shared how so much gender inequality exists in his country and how he is working towards getting more girls educated.
One initiative is through his school, St. Mary's Girls School, where 150 girls attend (check it out on our project page for more information).
The visit was refreshing and encouraging to say the least!
Thank you Bishop Nhial for your relentless spirit in bringing about peace and reconciliation in South Sudan!